I have had a kind of upsetting day, and am finally getting a chance to relax. Part of this is putting a familiar movie on, specifically Trick 'r Treat, a sort of adorable little Hallowe'en portmanteau[1] movie which I am just now feeling really weird about calling adorable because I started adding up the number of people who die in this thing (after getting lines, even!) and it is in the double digits, even if you only count ones who get lines.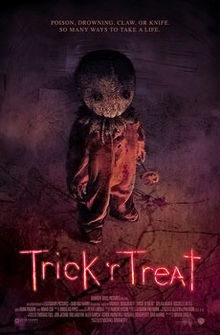 (I have included a picture of the movie's mascot in my post!  Look how cute he is.)
I mentioned this to the light of my life, in terms of how it struck me as odd that this kind of movie would be relaxing. Part of it is the familiarity, sure, but it's not like I'm putting on Threads[2] to relax. Or even Splinter, which is actually a really good movie. Either of those would be weird.  And he pointed out a couple of things:
First, I like short stories. I like anthologies. This usually only comes up with books, possibly because there is a sort of terrible lack of movies that do this (I can think of a handful, sure, but they are in a definite minority), and no TV shows that do it to my knowledge.  Getting different distinct stories with the same presenter is not the same; you only get one story per episode, still, and then the media slice is over and you are done for the nonce.  Tales from the Crypt is adorable in its way, and it's an anthology series, but the individual episodes are not anthologies.
Second (speaking of TftC), short stories within movies are overwhelmingly of the "bad things happen to bad people" genre, and given what I've been dealing with today, that connotes a universe with a moral framework and an active justice that it is kind of reassuring to see.  I think it was Eric Burns who, speaking of the classic pulp protagonists–the Shadow and the Spider?–said that he wanted to see horror turned against evil instead of for evil.
It's a very comforting kind of story, and that is nice right now.
—
[1] I was going to say "frame story", but I really don't think there's a single surrounding frame story.  Instead, there are at least four stories (I usually count five) weaving in and out of each other.
[2] A BBC movie about the aftermath of nuclear war which is about the most appallingly bleak thing I have seen in… uhm, actually, in ever.  There are more depressing or upsetting movies, but I have not seen any others which leave me feeling so throughly that the universe does not care and humans are just clinging sadly to a worldful of tired gritty dust that will not care one whit when we are gone.