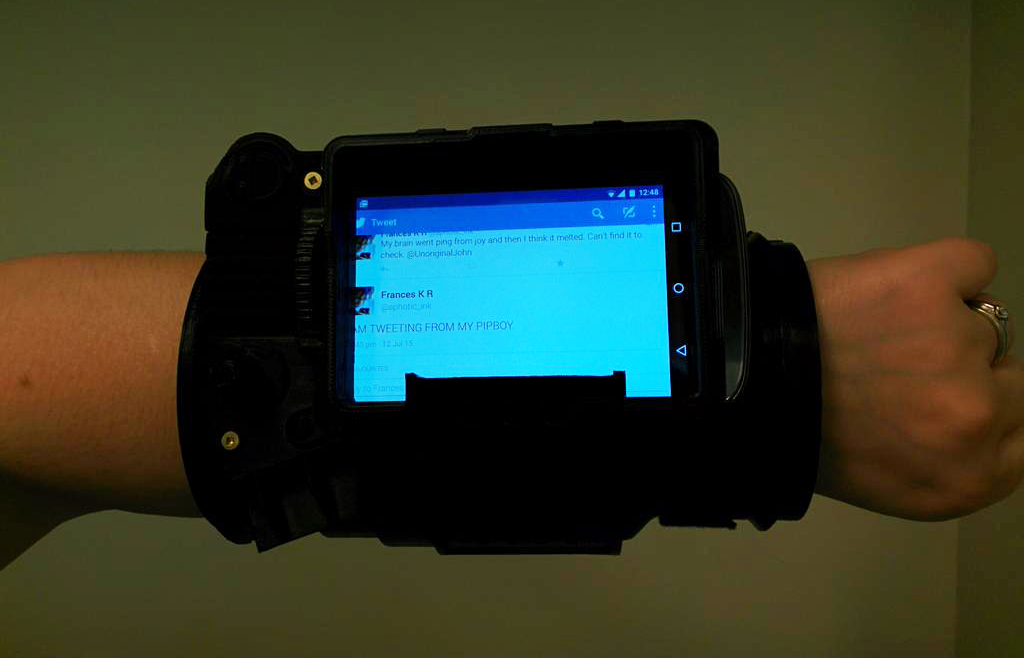 The light of my life got me a PIP-Boy.
I'd explain, but there is too much. Let me sum up.
Lo these many years ago, I ran across a computer RPG called Fallout. It was a retrofuturistic[1] post-apocalyptic game, in which you travel out from the great underground Vault where your people have lived for generations to find a replacement for the chip for the water purifier.
It spoiled me, in a lot of ways. (I used to approach other games just naturally expecting that I could play a female character unless there was a reason, and expecting many-many-lots options for how to deal with problems. Fallout, I love you–I have loved you for many years–but you're probably a chunk of the reason that shooters bore me to tears.)
Anyway. The characters–the protagonists you play, I mean–have a PIP-Boy; a Personal Information Processor Boy, which keeps track of such useful in-game things as inventory and quests and maps and the like. (In Fallout, there were buttons to pick the various options. The button for "Clue" had been ripped out, and the label had been near-completely scratched off.) The PIP-Boy is… it's as iconic as the whip of Indiana Jones, the pipe of Sherlock Holmes, the sonic screwdriver of the Doctor.
The collector's edition of Fallout 4[2] comes with a PIP-Boy, and you can put little foam inserts in it so whatever phone you have fits in there. I wanted one. I really really wanted one. I am being fiscally responsible, and held off.
And the light of my life brought me a PIP-Boy created on a 3D printer specifically to fit my phone, that I get to paint all by myself. I can even add little LEDs, too. And it's light enough I can wear it, and it fits, and…
I have a PIP-Boy.
—
[1] Ray guns? Yes. Super-mutants? Yes. Cellphones and LCD monitors? God no, no-one's ever seen one of those.
[2] Finally. …I still have a spare copy of Fallout: New Vegas to give away, by the way! Only on Steam, though.