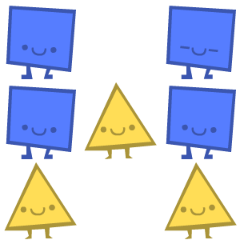 There's a nifty post going around, The Parable of the Polygons. It's a study of how small preferences within a society end up producing larger divisive trends within a society, explained through cute little flash games with yellow triangles and blue squares. They're nice triangles and squares! And you drag them and drop them and move them around, until they're happy or at least not unhappy. (They can end up "meh", too.)
What gets me particularly is about the eighth game (anything with a "reset" button under it can be played; it's just the larger boards, with the dark backgrounds, that look most like games. So: the eighth game, or the fourth big game) is that it shows what happens when you get people without bias in an already segregated society.
What happens? Nothing.
See what doesn't happen? No change. No mixing back together. In a world where bias ever existed, being unbiased isn't enough! We're gonna need active measures.
I am trying to remember this. Because this is not a world with zero bias, and it is useful to remember that correction of existing divisions is not something that happens just because you aren't actively bad.
You need to be good. You need– I need to be better. I need to actively work to put stuff I'm not used to seeing in the tiny slice of the world that I have curated for placement in front of my nose.
Because it isn't going to happen by itself.