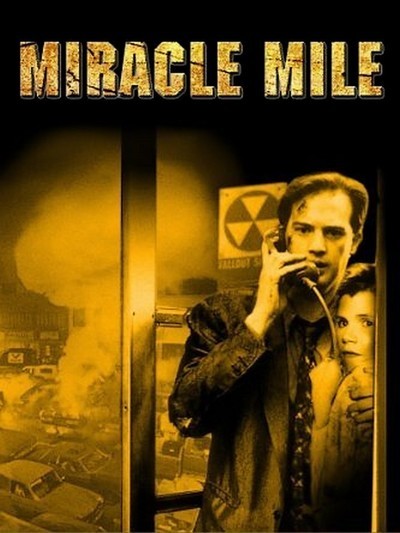 I rewatched Miracle Mile tonight; last night, actually, by the time this post is done. (Spoilers follow.)
If you don't know it; it's a 1988 movie about a guy who accidentally gets a phone call telling him nuclear war is starting (has started? the missiles are locked in, at any rate), and LA will be nuked in 70 minutes. The rest of the movie is him trying to get to his girlfriend and escape the city.
He manages one of these things.
Miracle Mile is dated, and its pacing and dialogue make it a bit hard to approach, but it pulls itself together as the film goes on. Some of the scenes towards the end are surprisingly bleak; the frantic crawl through the traffic jam is something I've never quite seen a match for. And it is an unapologetically downer ending[1]; I find it rather touching as well, which mellows it slightly, but fundamentally this is a movie that unquestioningly accepts that  nuclear war is going to be the end of things and waits for the characters to catch up.
"People are going to help each other, aren't they? Rebuilding things?"
"I think it's the insects' turn."
I would love to see a remake of it, but I'm not sure it could be done. It seems very much a movie rooted in the Cold War; the idea that a nuclear war could happen, that it was such a real and obvious and accepted fear that with so little prompting people would behave that way. I think you could convey a world in which that fear was present, but I think that for the audience it might be a case of learning that fear, not recognizing that fear.
—
[1] I said, to the light of my life, "is it really that much of a downer?" And he said to me, "World War Three started, LA is nuked, the main characters drown in tar. It's a downer."
He has a point.