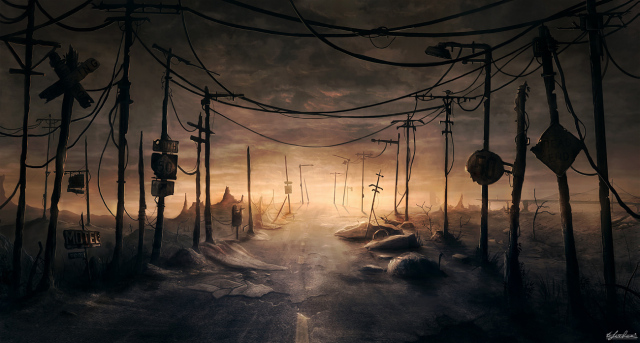 A while back, I got into a discussion with someone about post-apocalyptic settings, and they referred to A Handmaid's Tale as post-apocalyptic. It didn't seem to meet the definition, but I didn't have a chance to sit down and actually hammer out what I thought the definition was until now.
I think (and this is possibly heavily influenced by what I currently take for granted) a post-apocalyptic setting has two elements; an apocalyptic event[1], and a destruction of the larger social infrastructure. That might be because there are too few people left to sustain it, because the roads were ruined in the earthquake and roads are kind of essential, because the things that have lovely Victorian clothes and far too many teeth are coming through every fifteen hours and twenty minutes[2] and it's completely shot everyone's focus to hell… For whatever reason, the larger social infrastructure is gone.
(By the way, the Fractured anthology has some very good post-apocalyptic stories. Just saying. Also you can currently see it on my GoodReads feed, down in the widget corner.)
If you get an apocalyptic event without a destruction of the social infrastructure, then what you have is either a reconstruction setting or a dystopia, depending on how people reacted. (This is how I'd classify A Handmaid's Tale or 1984 if they'd been precipitated by an apocalyptic event[3]. This is also how I'd classify Deadlands, actually, with a side-order of monsters so deep in the shadows that almost no-one knows that there's been an apocalyptic event.) There's an apparently stable and effective government operating on a federal level over a huge territory; if that is post-apocalyptic, it's so far post-apocalyptic that the apocalypse has become irrelevant.
I don't think a reconstruction setting needs to have that large or effective a government, mind. I'd call Fallout: New Vegas more reconstruction than post-apocalyptic, with the world starting to knit itself together again, and the territories claimed by the various factions certainly aren't continent-spanning.
(Also, I will just note that I still have a spare Steam copy of F:NV to give away, because I collect them expressly for that purpose.)
If you get the destruction of the social infrastructure without an apocalyptic event, then what you have is… well, it's rather cynical, and I can't think of cases where I've actually seen it. But if it doesn't have an apocalyptic event to have happened after then it's by definition not post-apocalyptic, dammit.
Just some thoughts, I guess. Feels good to get them down, even if I'm not sure where they're going yet.
—
[1] I am absolutely willing to count slow or soft events as apocalyptic–total economic collapse, widespread drought or famine, humanity becoming sterile[4], etcetera. Doesn't have to be bombs or plague.
[2] I'm short-changing Bob Leman's "Window" horribly, here.
[3] I personally wouldn't classify the event precipitating the Republic of Gilead's creation as apocalyptic, but I understand that if you find the story focuses closely enough on the US, you can consider it to be so.
[4] See [3]; if you turn the narrative focus from "things potentially affected by an apocalypse" down to the narrower focus of "humanity", you can tell an apocalyptic story even when the vast majority of life on earth will be fine. See also "There Will Come Soft Rains", and yes, that was a deliberate link to the poem and not the story.