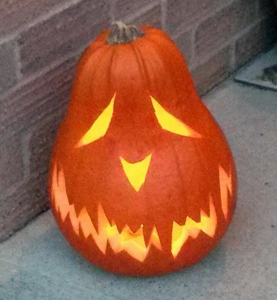 I honestly didn't remember it was the fifth of November until I was trying to come up with a post title. That puts today as being concurrently in the territory of NaNoWriMo, Noirvember, and Guy Fawkes Day; I think I may go with the "watch a movie and call it good" approach to celebrating.
Hallowe'en was very quiet; while I did the usual jack o'lantern, we ended up putting out candy with a sign asking people to please take one. The trick-or-treaters in our neighbourhood are mostly young kids with accompanying adults, so we figured it was a good bet, and it worked out.
Saturday was awesome; while some of the other people taking the Zombie Diefenbunker Tour were annoying, the tour itself was that kind of cheerfully unselfconscious pulpy creepy setup you'd expect from a Hallowe'en haunted house set in a Cold War bunker. And the bunker itself was amazing, in a rather understated but very stolid way.
(Apparently all 32,000 cubic yards of concrete were hand-poured. I find this particular detail oddly endearing.)
I will need to go back and pay attention to what it's like when it's not full of zombies, clearly.
Sunday was fun; the actual getting together and playing of board games in the same room as other people is something I haven't done in way too long. There were several games of Gloom, one of the new Doomtown, one of Pandemic, and one of Redshirts. I find myself weirdly fond of Gloom in particular; there's something about trying to kill the family or team represented by your own cards while saving everyone else's that makes the competition a lot less acrimonious than it could otherwise get, which makes it a good game when you don't know people too well yet. Plus the art is reminiscent of Edward Gorey.
Work actually ran out of work for me to do, and asked that I not come in today, so that's kind of nice. I'm trying to catch up on various things around the house before lunch.